Location
I live in a first floor apartment in Champaign, IL. Most of our local channels are to the west-southwest which is exactly where the window faces.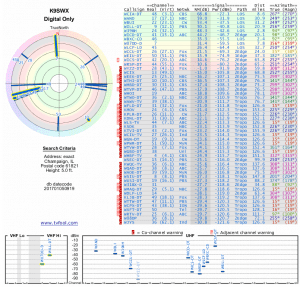 Receiver
My new receiver is a SiliconDust HDHomerun Connect (HDHR4-2US). I have it hooked up to the RabbitEars live bandscan website via a Raspberry Pi 2 which gives me an automated look at what I'm receiving day/night even when I'm not in front of the TV.
Antenna:
Since outdoor antennas are not an option, I am using a Terk HDTVa (amplified) that points out the window to the west-southwest. It's the only antenna I've found that works at my location. I originally got it to pull in Fox and ABC out of Springfield, IL (65 miles away) since our local affiliates are on the other side of the apartment.