I've always been fascinated by picking up distant stations whether it's on the ham band, shortwave or more recently TV. I live on the first floor of an apartment building with no ability for outdoor antennas so I figured my DX opportunities were limited. I've tried numerous indoor antennas from the flat thin things that hang in a window to the amplified square boxes. None really brought the channels in that I wanted to watch. Most of our stations are to the west-southwest of me which is great as there is a window on that side of the apartment. The problem is Fox and ABC are in the northeast and east directions which are blocked by walls and other apartment buildings.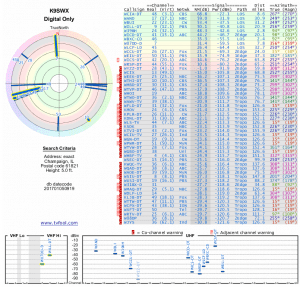 My only remote shot at them is going for the Springfield, IL stations which are 65 miles away. Impossible with an indoor antenna? I don't give up that easily! I originally tried my old Terk HDTVi (non-amplified) antenna. Sure, it's bulky but it's very directional which in my case helps. I was able to pick up the stations in Springfield, but they were in and out. I decided to spring for the Terk HDTVa amplified version of the antenna and I now consistently get stable signals from the Fox and ABC stations now pointed out a west window.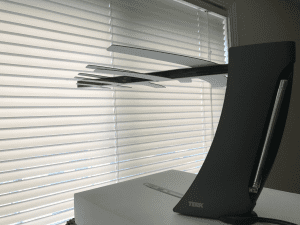 I started doing morning channel scans last summer and to my surprise, I picked up 3 stations out of St. Louis, MO which is just over 150 miles away from here. Some days they were just as strong as some of our local stations! I also managed to pick up WTJR out of Quincy, IL which is 161 miles away. Pretty exciting for an indoor antenna! I figured that was the limit of my minimal indoor setup until last week.
I woke up earlier than normal and decided to do a channel scan. I noticed it picked up 1 new channel that I'd never seen. I was thinking it was somewhere in St. Louis since the callsign started with a K rather than a W. It claimed to be KDCU. I looked it up and it said it was in Derby, KS.
My first thought was this was some receiver issue and it was misidentifying some local station. At first it wasn't strong enough to show a picture. I left it on just for kicks while I had some breakfast and saw the picture blink a few times like it was starting to decode. I was able to make out 4 letters on the screen which said KDCU. Holy crap! 522 miles away on an indoor antenna!
Seeing how no one would ever believe me, I grabbed my cell phone and took a picture of the screen. I asked around on the WTFDA forum and I wasn't the only one in Illinois to pick it up. An automated receiver northeast of me in Milford, IL also picked it up and they have a slightly better antenna than I do. 🙂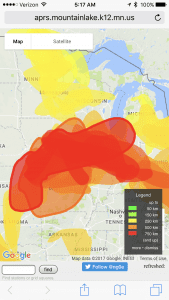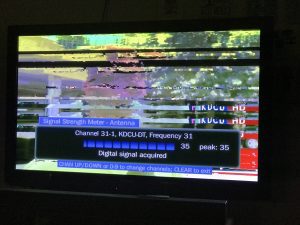 So this made me wonder how much I am missing when I'm not able to sit and do channel scans all day. I started looking into automated options and everyone seems to use a variation of the HDHomerun receivers. I just ordered the HDHomerun Connect and it should be here later this week so we'll see what sort of stations we can pick up when I'm asleep or not here to scan manually.
Anyone else do any TV DXing? What gear do you use? What's the best distance you have achieved?